Our Products
SPLA REPORTER- An automated SPLA usage report
Service Provider Licensing Agreements (SPLA) come with some challenges.
Here is a list of some common occurrences when managing SPLA:
• Hosting providers have to submit monthly reports
• Hosting providers find it difficult to create reports
• Manual assessments often required
• Risk of inaccuracy
• Cost implications for admin and not reporting correctly
• There is a lack of easy to use reporting tools
Our SPLAreporter is a product that can help you manage the SPLA challenges you and your business face!
The SPLAreporter features include:
• Scan by agentless discovery gathers data about what software titles, versions and quantities are allocated to virtual desktops and aggregates into a database.
• Validates against SKUs/Licensing models
• Optional Software Asset Management through Aspera SmartTrack
• Reporting services in customisable web control panel
• Reports can be exported as Excel file or to billing system
• Create a subscription to send report schedule (Example: last date of month)
• Awarded European Commission- Seal of Excellence
SPLAreporter will be fully automated resulting in the reduction of errors and timely, consistent report creating. These reports can be fully customised to appear on a scheduled basis and automatically produce corresponding invoices. Agentless scanning finds and catalogues all software deployments and ensures that data accuracy is automatically produced. The web base reporting services provides value added facilities which lead to accurate billing and avoidance of doubt in the validity of SPLA reports.
Some SPLAreporter benefits include:
• 70% reduction in time taken for HSPs to compile SPLA reports, resulting in reduced labour costs
• 25% reduction in errors on SPLA reports due to eradication of insufficient reporting systems and manual errors. This reduction in errors helps protect LSPs from incorrect SPLA reports that may result in fines or the removal of their SPLA distributing license
• Increase in SPLA revenue to LSPs and software publishers by 15% due to the reduction in errors and less time taken to check inconstancies and chase LSPs
• Reduction in late filing of SPLA reports by 85%, increasing cash flow for HSPs and lowering the chance of fines for HSPs who have to correct errors in their SPLA reports.
Dashboards can be customised for software publisher or currency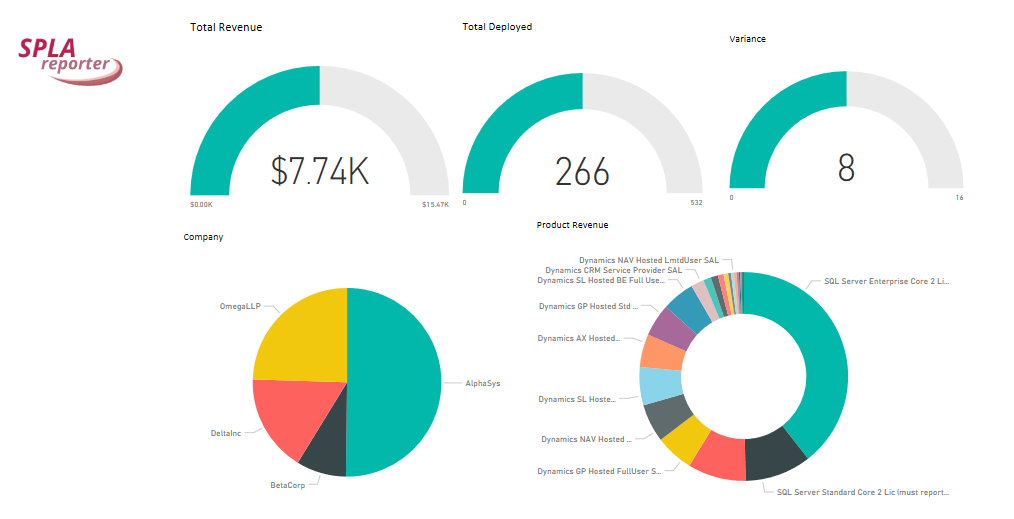 One accurate measurement is worth a thousand expert opinionsGrace Hopper